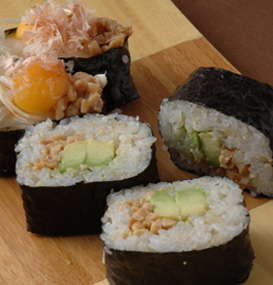 5 tablespoons natto, chopped
1/2 avocado, halved lengthwise, pitted, peeled and cut lengthwise into 1/8-inch slices
Wasabi paste
Four 8 x 7-inch sheets of Asakusa nori
2 cups vinegared rice:

1 cup short-grain raw rice
1 and 2 tablespoons cold water
1/4 cup rice vinegar
1 tablespoon sugar
1 teaspoon salt

Make vinegared rice:

In a large bowl cover the rice with cold water, stir the mixture, and pour off the water. Continue to wash the rice in the same manner until the water runs clear. Drain the rice well.

In a heavy saucepan, combine the rice with the water, and let the mixture stand for 30 minutes. Bring the liquid to a boil, covered, over high heat and simmer the rice, covered, over medium heat for 10 minutes.
Cook the rice over high heat for 1 minute and remove the pan from the heat.
Let the rice stand, covered, for 15 minutes and transfer it to a ceramic bowl.
While the rice is cooking, in a small stainless steel or enameled saucepan combine the vinegar, sugar, and salt and cook the mixture over moderately low heat, stirring, until the sugar is dissolved.
Let the mixture cool. Pour the vinegar mixture, a little at a time, to the rice, stirring the mixture gently, and let the vinegared rice cool, covered.
Dry roast each sheet of Asakusa nori over direct heat, holding it at opposite corners with tongs and waving it back and forth over the burner, for 30 seconds, or until it turns green.
Lay a dry sudare (a bamboo mat used for rolling sushi and other foods) on a work surface so that the slats run horizontally.
Put a piece of the Asakusa nori on the sudare with a long side facing you and with dampened hands spread 1/2 cups vinegared rice onto it, leaving a 1-inch border along the top edge.
Spread a small bit of the wasabi paste horizontally across the center of the rice.
(Use the wasabi paste sparingly as it is very hot.)
Arrange 3 avocado slices overlapping slightly in a horizontal line over the wasabi paste and top them with one fourth of the natto.
Grasp the edges of the nori and the mat from the side facing you, lift the nori and the mat slightly, and roll the nori evenly and tightly away from you, pressing down slightly with each quarter turn.
Seal the roll with a drop of water on the far edge of the nori, press the seam closed, and transfer the roll to a cutting board.
Make 3 more rolls in the same manner. With a serrated knife dipped in hot water trim the ends of the rolls and cut each roll crosswise into six 1-inch sections.
Arrange the rolls cut side up decoratively on a platter. Makes 24 hors d'oeuvres.