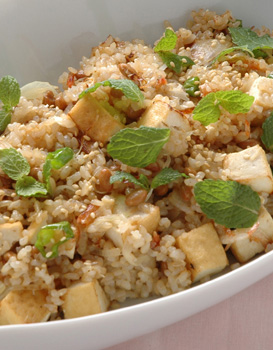 2 1/2 cups cooked short-grain brown rice
2 tablespoons sesame oil
5 tablespoons (rounded) natto
1/2 onion, thinly sliced
1/8 green pepper, roughly chopped
3 tablespoons dried small shrimps
1/2 cup deep-fried tofu, cut in small cubes
1 tablespoon mint leaves
1/2 tablespoon salt
Nam pla (Thai fish sauce)
Black pepper

Heat the sesame oil in a large skillet over medium heat.
Add the onion and green pepper and cook until the onion is transparent.
Add the brown rice, deep-fried tofu, dried shrimps, and stir-fry.
Stir in the natto and season with the salt, nam pla, and pepper.
Transfer the fried rice to a warmed serving bowl and top with the mint leaves. Serves 2.