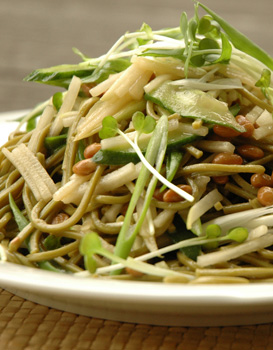 1/4 pound soba (buckwheat-noodles), preferably cha soba (tea-buckwheat-noodles)
5 tablespoons (rounded) natto
1/2 English cucumber, sliced diagonally
3 tablespoons diagonally-chopped green onion
1/4 cup daikon sprouts (or alfalfa sprouts)
Soy sauce dressing:

1 tablespoon soy sauce
2 tablespoons sesame oil
1 tablespoon rice vinegar
1/2 teaspoon ginger juice (grate and squeeze ginger to get juice)

2 teaspoons white roasted sesame seeds

Make the soy sauce dressing: In a small bowl, whisk all the ingredients of the dressing.
Bring a large pot of water to a boil over high heat.
Break the soba in half and add to the boiling water.
Cook, stirring occasionally, for the minutes instructed on the package of the soba.
Drain the soba, rinse thoroughly under running cold water, and drain again.
In a large bowl, mix the soba, natto, cucumber, and green onion.
Transfer them to a serving dish and top with the daikon sprouts.
Pour on the dressing and sprinkle with sesame seeds. Serves 2.