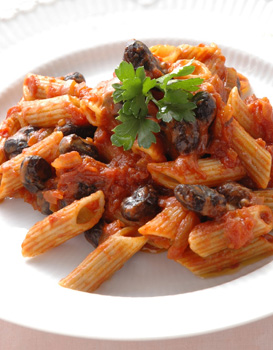 1/4 pound penne
Natto tomato sauce:

5 tablespoons (rounded) natto
1 can of tomato in spring water, chopped
1 onion, finely chopped
2 garlic cloves, finely chopped
1 dried hot red pepper, seeded and finely chopped
2 tablespoons olive oil
1 teaspoon sake (rice wine)
2 tablespoons miso, preferably hattyo miso
Salt and black pepper

5 Japanese basil leaves, chopped (optional)

Bring a large pot of salted water to a boil. Add the penne and cook until al dente.
Meanwhile, make the natto tomato sauce: Heat the olive oil in a large skillet over moderate heat. Add the garlic and hot red pepper and sauté briefly to release their fragrance.
Add the onion and and sauté until they soften. Add a pinch of salt and black pepper, the tomato, and sake and simmer for about 15 minutes.
Remove from heat, stir in the miso and natto. Taste and season with salt and black pepper.
When the penne is done, drain it. Add the penne to the skillet and toss.
Transfer the penne to a warmed serving bowl and sprinkle with the Japanese basil, if using. Serves 2.