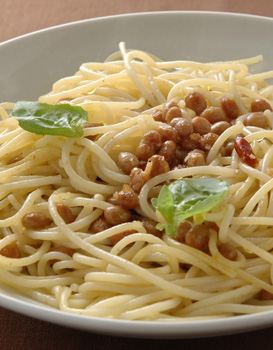 5 tablespoons natto (rounded)
1/3 pound spaghetti
4 cabbage leaves, shredded
1 garlic clove, finely chopped
1 dried hot red pepper, seeded and chopped
2 tablespoons olive oil
Salt and black pepper
Fresh basil leaves

Bring a large covered pot of salted water to boil.
Add the spaghetti and cabbage and cook until the spaghetti is al dente.
Meanwhile, in a large skillet, heat the olive oil and sauté briefly the garlic and red pepper to release its fragrance.
When the spaghetti and cabbage are done, drain them. Transfer them to the skillet, season with salt, pepper, and natto and toss well.
Served immediately, topped with the basil. Serves 2.