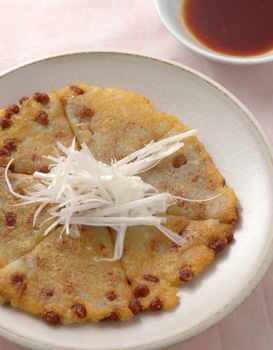 Dipping sauce:

3 tablespoons soy sauce
1 tablespoon grated white sesame seeds
1 teaspoon finely-chopped leek

5 tablespoons (rounded) natto, chopped
1 teaspoon grated garlic
1 teaspoon powdered hot red pepper
1 teaspoon sake (rice wine)
1 potato, peeled and grated
5 Chinese leek stalks, cut in 2-inch length
1 tablespoon sesame oil
2 tablespoons fine strips of white stem of leak

Make the dipping sauce:

In a small bowl, combine the soy sauce, sesame seeds, and leek.

In a large bowl, mix the potato, garlic, red pepper, 1 tablespoon of leek, and sake.
Heat the sesame oil in a large skillet on medium heat.
Pour the potato mixture on the skillet, top with the natto, 1 tablespoon of minced green onion, and Chinese leek, and bake until browned underneath.
Flip and bake on the other side.
Transfer it to a serving dish and top with the strips of white stem of leak.
Serve with the dipping sauce. Serves 2.