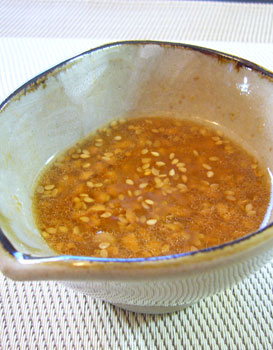 About 40g of Natto, chopped
3 tbsp Soy sauce
3 tbsp Rice wine Vinegar
5 tbsp Sesame seed oil 
1 tbsp Squeezed ginger juice (grate and squeeze ginger to get juice)
2 tbsp White roasted sesame seeds

Chop Natto finely
In a bowl, combine soy sauce, rice wine vinegar, and ginger juice.
Slowly add sesame seed oil and combine everything well.
Add sesame seeds.