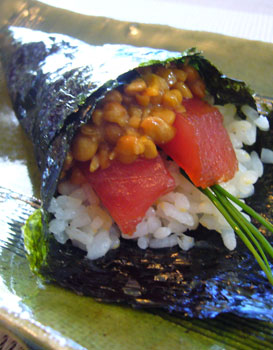 Tuna
Serrano Pepper to taste
Natto
Sesame oil
Soy Sauce
Sushi rice (see below)
Yaki-nori (Seaweed for sushi)
Vinegar
Sugar & Salt
Make 2 cups Sushi rice (vinegared rice)
For rice:
1 cup short-grain raw rice
1 and 2 tablespoons cold water
For the vinegar mixture:
1/4 cup rice vinegar
1 tablespoon sugar
1 teaspoon salt

Make sushi rice. (See California Roll recipe for the detail direction)
Cut nori into 4 pieces.
Chop Natto finely.
Cut serrano pepper into very thin slices. (It's better to put rubber gloves on when you handle serrano pepper.)
Cut tuna into thin strips of easy-roll-size (like 2 or 3 inch-long sticks).
In a bowl, mix equal parts of soy sauce and sesame oil and sliced serrano pepper (the amount of the pepper depends on your preference).  Put tuna into the mixture and let it marinated for a second.
Dry your hands thoroughly.
Place the seaweed at the corner upward and put the vinegared rice in the center.
Lay a stick of tuna diagonally, down on the middle of the rice. Pour a little bit of the marinade mixture over the tuna.
Stir Natto and put some of them over the tuna, diagonally as well. (Don't over stuff it.)
Roll the left corner to the right. Roll the right corner to the left to shape like a corn and stick the seaweed with rice grain.
*Be careful not to place too large a quantity of rice and tuna on a nori, otherwise rolling will be very difficult.