Order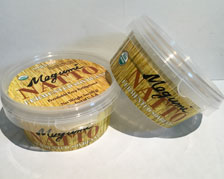 MegumiNATTO
Certified Organic by QAI
Non-GMO large soy beans
3 oz (85g) plastic cup
with tamper evidence seal
No sauce and spice packet
Notice: We will be closing our factory. Due to the decision to shut down the business, we will manufacture until the end of May.

We will give you a 50% discount for every order.
* We ship MegumNATTO on Monday and Wednesday.
** Our Natto are made-to-order to provide fresh products, so it takes about 1 week from receiving the order to shipping.